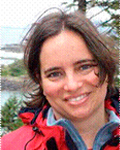 Amalia Amaya
Filosofía del Derecho
Investigador Titular A
amaya@filosoficas.unam.mx
Tel. 01 (55)5622-7229
Amalia Amaya es doctora en Derecho por el Instituto Universitario Europeo (2006) y por la Universidad de Harvard (2007). Se incorporó al Instituto de Investigaciones Filosóficas de la UNAM en el 2007. Sus principales áreas de interés son la filosofía del derecho, en particular, la epistemología de la prueba jurídica y la teoría del razonamiento jurídico, aunque tiene intereses también en el ámbito de la filosofía moral y del razonamiento práctico general.

CV
---
Amalia Amaya received her Ph.D. from the European University Institute in 2006 and an LL.M and a S.J.D. from Harvard Law School in 2007. She joined the Institute of Philosophical Research, UNAM, in 2008. She works primarily in philosophy of law, specifically, in the epistemology of legal proof and the theory of legal reasoning, though she is also interested in ethics and practical reason.

CV
Libros
Artículos y capítulos de libro
Exemplars, Legal Reasoning, and Legal Ethics (aparecerá publicado en ANALOGY AND EXEMPLARY REASONING IN LEGAL DISCOURSE, C. E. Smith et al., eds. Ashgate, Aldershot, 2016).

Coherence and Systematization in Law (aparecerá publicado en HANDBOOK OF LEGAL REASONING AND ARGUMENTATION, G. Bongiovanni, G. Postema, A. Rotolo, S. Sartor, and D. Walton, eds. Springer, Dordrecht, 2016).

"Virtues in Jury Decision-Making", manuscrito en proceso.

"Probability, Coherence and Rationality in Legal Fact-Finding", manuscrito en proceso.

"Jury-Decision Making and the Space of Public Reason", manuscrito en proceso.
Actualizado Jul 01 de 2014