investigadores-abril-2016
Sala de Seminarios Fernando Salmerón, IIFs
Miércoles de 12:00 a 14:00 horas
Miércoles 6 de Abril 2016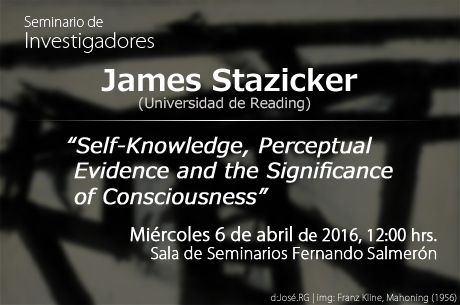 Self-Knowledge, Perceptual Evidence and the Significance of Consciousness
What makes consciousness a distinctive source of knowledge? The answer is often thought to lie in the fact that the contents of consciousness are available to higher order reflection. A related, traditional view holds that one's perceptual evidence sometimes consists in one's conscious perceptual states. Against these views I argue that, in a rational human, higher order reflection is less sensitive than first order belief to the contents of conscious perception. Therefore the epistemic significance of consciousness lies in its first order cognitive role, and one's perceptual evidence consists in objects of first order perceptual experience, not in perceptual states. Since this conclusion applies in cases of radical illusion, such as traditional sceptical scenarios, it also presents a challenge to the popular view about perceptual evidence is factive.
---
Miércoles 27 de Abril 2016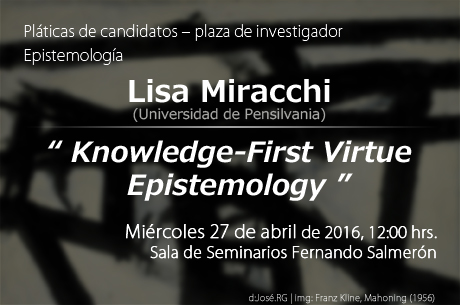 Pláticas de los finalistas de una plaza de investigador en el área de ética o en el área de epistemología:

Epistemología
___________________________
Lisa Miracchi (Universidad de Pensilvania)
" Knowledge-First Virtue Epistemology "
Actualizado Abr 27 de 2016