SEMINAR ON POLITICAL LEGAL AND ETHICAL THEORY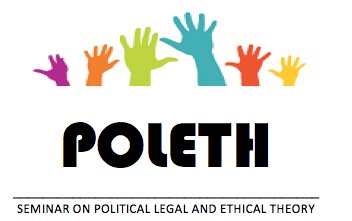 POLETH stands for a research group in Political, Legal and Ethical Theory. It is focused around, but not limited to, students and faculty from the Institute of Philosophical Research and Philosophy Department at UNAM. Its main activities are meeting for philosophical analysis of original work and the latest literature on the topic.
ALL presentations and discussion in the POLETH seminars are conducted in English. This is seen as a way to improve a set of skills, which are essential to actively participate in today's international academic world. A paper in English is circulated a few days in advance, and the seminar involves a discussion with or without assistance of the author.
We meet some Wednesdays from 17:30-19:30 normally in room 6.
If you would like to take part in these seminars, please contact Enrique Camacho or Itzel Mayans at enrique.camacho@comunidad.unam.mx or itzel.mayans@gmail.com, who will add your name to the distribution list.
Call for papers:
We seek contributions from PhD students, MA students, as well as both established and junior scholars. The papers may address any topics in Political, Legal and Ethical Theory (See submission guidelines below).
In the meantime, we will meet to discuss central issues regarding the Methodology of Applied Ethics and use abortion, corruption, hate speech, and immigration as instances of application. Reading materials will be available by email request one week before the seminar date or at http://enriquecamachobeltran.blogspot.mx
Sesiónes del Seminario POLETH

POLETH: presenta

"The paternalistic argument against abortion"
de Moisés Vaca e Itzel Mayans

Miércoles 19 de octubre de 17.30-19.30 hrs.
Aula 6 del IIFs.
| | | | |
| --- | --- | --- | --- |
| Week | Date | Subject | Bibliography |
| 1 | October 5th | Morality | Kagan, S. "The Structure of Ordinary Morality" |
| 2 | October 26th | Ethics | Darwall, S. L. "Theories of ethics" |
| 3 | November 16th | The Nature of Applied Ethics | Beauchamp, T. L. "The nature of applied ethics" |
| 4 | December 7th | Moral Dilemmas | Davids, N. Anne. "Moral Dilemmas" |
| 5 | January 11st | Intentions, Acts, and Omissions | Smith, Patricia. "Bad Samaritans, Acts and Omissions" |
| 6 | February 1st | Killing and Letting Die | Norcross, Alasdair. "Killing and Letting Die" |
| 7 | February 22nd | Theories of Moral Status | Warren, Mary Anne. "Moral Status" |
Submission guidelines:
Please send an abstract of 700-1000 words (excluding references) with 'POLETH' as the subject line to enrique.camacho@comunidad.unam.mx. The abstract should be prepared for blind review and submitted in PDF or Word format. The submission should also include a separate cover letter with the author's name, paper title, institutional affiliation, and contact details.
For more information please contact us at: enrique.camacho@comunidad.unam.mx or itzel.mayans@gmail.com
Actualizado Oct 17 de 2016